What you need to know
With information about COVID-19 changing rapidly and impacting daily life, PayPal wants you to take good care of yourself and your family, including your physical and emotional well-being. The impact of COVID-19 affects everyone differently, and you have several support resources available to you.
Health plan support
Benefit enrollment changes as a result of an eligible life event
COVID-19 vaccine information
COVID-19 vaccine information is rapidly changing. Each state has set priorities about who gets the vaccine first, based on recommendations from the federal government. Experts suggest regularly checking state public health department websites for information. Some states offer vaccine safety information, details about who qualifies for vaccines now, and ways to sign up for COVID-19 vaccine alerts. You can find vaccines updates from CVS to learn more.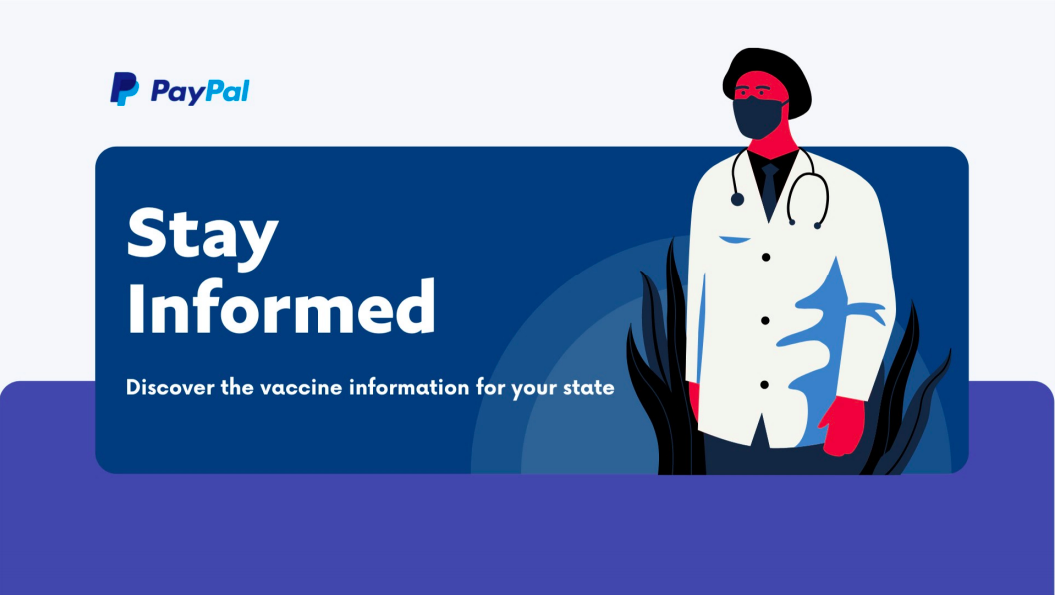 PayPal Onsite COVID-19 Vaccination Clinics
To provide you and your family with improved access to vaccinations, we will be hosting an onsite COVID-19 Vaccination Clinic at your PayPal site.
Now that vaccines are more widely available, and have proved to be a strong line of defense against COVID-19, PayPal is committed to making it easier for any employee, and their immediate family, who wish to get vaccinated, to do so.
To book your appointment
Read our FAQs document to learn more about the clinical services available.
Follow the registration link below for your location.
Choose appointment times convenient for you and your family members. (If you're in a CS/Ops role, connect with your manager to confirm and plan the time you need.)
Check your inbox for your confirmation email and look out for follow-up communications and details prior to vaccination day.
| PayPal office | Dose 1 clinic date(s) | Dose 2 clinic date(s)* | Registration link |
| --- | --- | --- | --- |
| Austin | 06/08/2021 | 06/29/2021 | Register |
| Chandler | 06/09/2021 | 06/30/2021 | Register |
| Chicago | Canceled | Canceled |   |
| Los Angeles | Canceled | Canceled |   |
| New York | - | - | Dates and times will be announced soon in local communications |
| Omaha | 06/09/2021 or 06/10/2021 | 06/30/2021 or 07/01/2021 | Register |
| San Jose | 06/08/2021 | 06/29/2021 | Register |
| Scottsdale | 06/08/2021 | 06/29/2021 | Register |
| Timonium | Canceled | Canceled |   |
| Wilmington** | Canceled | Canceled |   |
* Second dose dates are provided for your information. Your follow-up appointment will be scheduled onsite at your first appointment.
** Plymouth Meeting employees are eligible to book appointments at our Wilmington location.
In sites where we are unable to host onsite COVID-19 Vaccination Clinics, we've made community partner alternatives available.
Have a question? Check out our Vaccination Clinic FAQs. The FAQ document is accessible only to PayPal employees.
Need additional support? For more details on all of our wellness benefits – including answers to questions you might have about our expanded Crisis Leave program, vaccination reimbursement options and our existing vaccination resources – visit the HR Hub as well as in the "Your Questions Answered" section of the COVID-19 Resource Center.
As always, please reach out to our Benefits team at paypalincbenefits@paypal.com if you have other questions or need additional support.
Emotional well-being
Employee Assistance Program
If you're feeling stressed or worried, speak with a licensed mental health provider through the Employee Assistance Program (EAP). All sessions are confidential, and the service is free to you and your family members.
Optum: Call 866-248-4096, or visit liveandworkwell.com and enter access code: PayPalUS, select "Behavioral Health Care Search," and respond to the questions about the type of support you're looking for.
Arbor Family Counseling (Nebraska employees): Call 800-922-7379, or visit arborfamilycounseling.com and enter password: arbor.
These resources from Optum also may be helpful:
meQuilibrium
Get tips and strategies to build your resiliency with meQuilibrium. You can track your mood and stress levels, view personalized recommendations to help you strengthen relationships, and change negative thinking patterns. meQuilibrium gives you scientifically backed activities, tools and meditations to help you feel less stressed and manage uncertainty. It is is available to you, your spouse/partner and dependents 18+ at no cost. Get started at meQuilibrium or download the app from the App Store or Google play.
UHC behavioral health support
Talkspace
UHC members: Get online therapy from anywhere through Talkspace. Safely and confidentially message a licensed therapist 24/7 from your phone or desktop. No appointment required. You can also schedule real-time video sessions as needed. Read more, or get started at talkspace.com/connect.
Virtual support tools for Kaiser HMO members
myStrength
myStrength is a personalized program that includes interactive activities, in-the-moment coping tools, inspirational resources, and community support.
Track your preferences and goals, current emotional states, and ongoing life events to improve your awareness and change behaviors.
Register now to access myStrength.
Calm app for self-care
The Calm app uses meditation and mindfulness to help lower stress, reduce anxiety and improve sleep quality.
Adult Kaiser members can access Calm at kp.org/selfcareapps.
Family support
Bright Horizons backup child/elder care
If you need child care assistance and your regular care is unavailable, you have access to Bright Horizons backup care to help support your family's needs.
You may now receive 30 backup care uses per calendar year instead of the previous 10.
Family care support for COVID-19
Are you struggling to manage work and your child's distance learning? Are you finding that you have more child care gaps than you used to? Your Bright Horizons Back-Up Care™ benefit can provide the support you need to navigate these challenges. Get high-quality care through an in-home care provider or in one of Bright Horizons child care centers, which have implemented enhanced COVID-19 protocols to give you peace of mind. Plus, all copays are currently waived.
Once you register, you'll also have the option to secure care from within your own personal network (a neighbor, friend, or babysitter) and receive a reimbursement of $100 per day. Be sure to select out-of-network care during the back-up care reservation process.
Register in advance
Complete your care profile now (including required forms) so you're prepared to reserve care when you need it. Visit backup.brighthorizons.com/paypal (Username: PayPal, Password: backup4u), or call 877-242-2737.
Follow these instructions for searching for a care provider.
Backup care options
Choose from center-based or in-home care options. With waived copays right now, this valuable benefit is made available to you at no cost!
Important information about Bright Horizons
As a result of extremely high demand due to COVID-19, you are likely to experience delays in reaching Bright Horizons when you need to secure backup child/elder care. Bright Horizons is working to add more customer service team members and improve the website to accommodate this increased volume. Here are a few things to keep in mind when accessing care:
Sittercity
You also have access to Sittercity, a web resource you can use to search for child care. Visit Sittercity, then click on "Use it" next to "Find Sitters, Nannies & Housekeepers."
Cleo parental coaching
Cleo provides support for new and expecting parents at no cost to you. Visit Cleo to download the app and activate an account using your work email. Even if you're not registered with Cleo, you can now access webcasts, blogs and resources to help with working from home while caring for your kids. See what's available.
At-Home Learning 
These tools can help both you and your children navigate the world of at-home learning:
Looking for more?
PayPal offers additional family support resources to help guide parents during this time.
Learn more
Important changes to flexible spending accounts
New COVID-19 relief measures for the flexible spending accounts
Recently, the U.S. Congress and IRS signed The Consolidated Appropriations Act, 2021 (CAA, 2021), bringing temporary financial flexibility regarding flexible spending accounts (FSAs). Here's what you should know if you had an FSA in 2020, have one in 2021, or would like to enroll.
Carry over your account balance for 2020 and 2021
Extended grace period for the Dependent Care FSA
Dependent child age limit increased to age 14
Flexibility with election changes for Health and Dependent Care FSAs
Deadline extended for filing FSA claims
At the present time, the 2019 FSA claim filing deadline for the Health Care FSA and Dependent Care FSA has been extended to April 30, 2021.* This means you can continue to submit eligible 2019 claims (incurred up to December 31, 2020) for reimbursement from your available 2019 FSA balance up to the deadline. The deadline for the 2020 plan year to file a claim will be December 31, 2021.
*Deadline dates reflected above may change upon further guidance from the IRS.
Reimbursements for over-the-counter medications
Don't forget that you can use your Health Care FSA, Health Savings Account, and/or Health Reimbursement Account to pay for most over-the-counter (OTC) medications and feminine products, without a prescription. Any eligible expenses can be submitted for reimbursement from the applicable plan administrator's online claim process. You may also use your account's debit card to cover these expenses.
Contact Your Benefits Resources™ (YBR)
For questions, please contact the Benefits Administrator, Your Benefits Resources™ (YBR) at 1-844-474-6641.
For inquiries about your FSA balance or claims, choose option 1 (Smart Choice Spending Accounts), verify your identity, then choose option 1 (Health Care Spending Account) or option 2 (Dependent Care Spending Account).
For inquiries about your FSA election or to make prospective changes to your elections, choose option 3 (Health & Insurance), and then Option 2 (Healthcare).
To view your FSA, access YBR (@Work | Log in).
Financial security
Navigate your finances during uncertain times
Time off
PayPal is committed to the health and well-being of all employees. During this coronavirus pandemic, we will provide additional support and flexibility to manage your individual circumstances. The following measures apply to all employees:
If you are diagnosed with the coronavirus, you will continue to be paid without interruption throughout the time you are ill.
If your office is closed temporarily due to the impacts of the coronavirus, you will continue to be paid during the time your office is closed, even if you do not have the ability to work from home.
To address specific challenges you may face as a result of the coronavirus, such as caring for children or other family members, the need to stay home due to an underlying illness or health vulnerability, or other personal or medical needs, you may request up to 2 additional weeks of paid time off through our Crisis Leave Program. Apply for Crisis Leave in Workday, or contact StayInformed@paypal.com, and your request will be handled confidentially by a dedicated member of our HR team. More information is on The Bridge (must be on the PayPal network).
If you face family care challenges related to the coronavirus, please work with your manager and your team to develop a flexible working arrangement or part-time schedule to accommodate your needs during the coronavirus situation.
Wellness resources
Vida health coaching
Connect with a Vida health coach anytime, anywhere to help you:
Stay active. Even though your daily routine might be changing, your exercise habits and goals don't have to. Vida's coaches and in-app content provide at-home exercises and tips for eating healthy while working remotely.
Address your mental health. With all that's going on—news headlines, social distancing, financial worries, family concerns—you may need extra support. Vida's resilience program can help you cope with stress, anxiety, and depression.
Get support for working at home. For many, it's a new experience, and having a community is even more important during these difficult times. Vida's Group feature lets you trade tips with others to work more efficiently, find resources for caring for kids at home, and share creative ways to address social isolation (e.g., virtual happy hours).
Download the app and search for organization name PayPal. Or send a message in chat to your current coach.
Real Appeal
Looking for ways to stay healthy from home? Real Appeal is an online weight-loss program tailored to your unique schedule and needs. Available at no cost to all employees, spouses/partners, and dependents 18+ enrolled in a PayPal medical plan. You'll learn how to incorporate small changes that help you feel your best and keep your body moving—even if you're short on free time. Get started.
Discounted Accommodations
Employees can now use Concur Travel to book a hotel room as a safe place to self-isolate during COVID-19.  You will be eligible to receive the discounted PayPal rate during your stay. This includes accommodations for dependents you live with. You must pay using a personal credit card, and while accommodations cannot be reimbursed by PayPal, they can be booked at the discounted rate until further notice.
Employee discounts
Find discounts on food delivery, meal prep, tech equipment and more on PerkSpot, our employee discount portal. A special collection of discounts has been curated in the COVID-19 resource center.
Also check out Community Online Academy (COA) as part of Perks at Work. You'll find free resources for adults and children, including live classes, videos, and a Kids Club.
Remote working tips
Although working from home can provide many benefits to employees, it also creates unintended challenges when the environment is less than optimal.
Check out these suggestions for conducting virtual meetings to help you have the best experience.